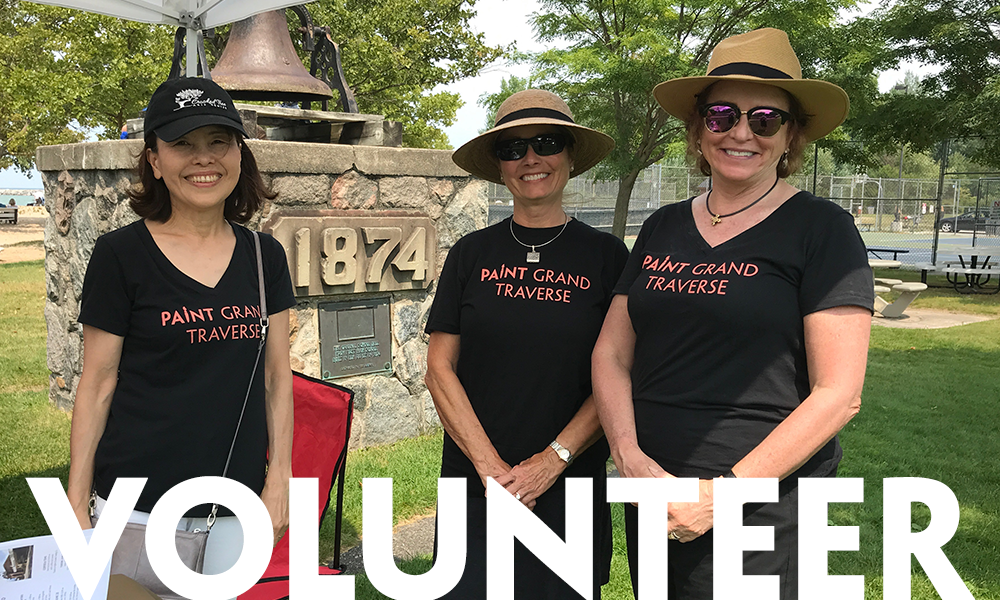 Paint Grand Traverse is a week-long plein air (outdoor) painting festival and competition. The fourth annual Paint Grand Traverse will be held August 9-15, 2021.
During PGT, artists from across the country will paint at over a dozen beautiful locations throughout the Grand Traverse region. The week also features parties, activities for kids, live painting demonstrations, and more! Paint Grand Traverse is presented by Crooked Tree Arts Center - Traverse City.

We need a great team of volunteers to make Paint Grand Traverse a huge success! Online volunteer shift signup for PGT 2021 is now open!
 

AMBASSADORS
Ambassadors are the friendly, smiling faces of our event! Ambassadors volunteer out at the various painting locations (typically wineries, parks, farms, etc), and greet spectators, hand out information about Paint Grand Traverse, and provide directions.

 

 

ARTWORK TEAM
The Artwork Team works with our Galleries Director to check artwork in, stamp canvases, and help hang and display paintings.

 

 

SALES TEAM
Assist guests with buying artwork during events by collecting their billing information and directing them to check-out tables. Sales Team members also have the incredibly satisfying job of applying big, red, SOLD dots to the walls.

 

 

SPECIAL EVENTS
Help with event setup and cleanup at different activities throughout the week, including the Quick Paint Competition, artist demos, Pint-Sized Paint Out for Kids, and the Collectors Gala.

 

 

SPECIAL PROJECTS
Includes distributing flyers, helping set up for live painting demonstrations, and assembling artist info packets and swag bags.

 

 

PHOTOGRAPHERS
We are looking for volunteer digital photographers to help document PGT 2021. Dates and times will vary and are flexible. Email megankelto@crookedtree.org or call 231-937-2377 if interested.