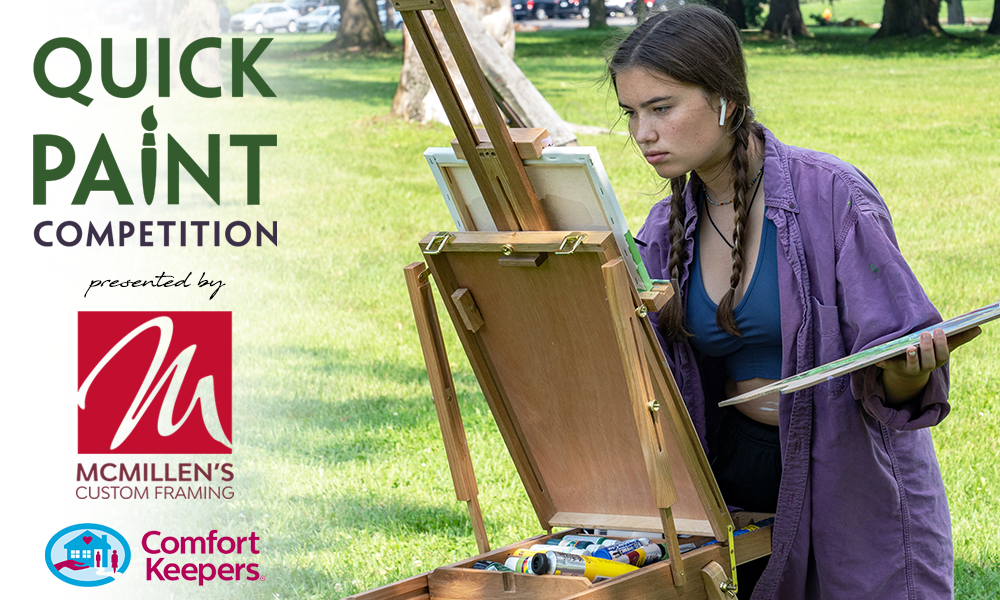 Event Details

Price

FREE to attend; $25 to compete
A great event for spectators! A Quick Paint is an exciting, two-hour competition for plein air painters working on location. Artists will compete for cash awards, and the competition will be immediately followed by a quick sale! Browse and buy fresh, new paintings by up to 100 regional and national artists!
Event Location: Hannah Park, downtown Traverse City (next door to Crooked Tree Arts Center)
Artist check-in: 12:30-1:30pm
Painting time: 1:30-3:30pm
Awards announcement and quick sale: 4:00-5:00pm
---
Artist Registration
Register to join our 36 featured artists for an afternoon of artistry, awards, and sales!
Register before August 1: $20.00 (free for Artist Guild Members*)
 
Register between August 1-16: $25.00 for all registrants (no Artist Guild discount)
 
Walk-on registration on event day: $30.00 for all registrants (no Artist Guild discount)
*Artist Guild members: if registering online, you must log in with your Crooked Tree Arts Center account to get your free registration. Or, call the CTAC front desk at 231-941-9488 to register by phone. Interested in becoming an Artist Guild member? Click here to join.
Or call (231) 941-9488 to register by phone.
Registration fee is non-refundable; there is no rain date. In the event that our event is cancelled due to weather or another unavoidable circumstance, your registration fee will be converted to a tax-deductible donation to Crooked Tree Arts Center.
---
Awards and Competition Rules
Who will participate: up to 100 artists, including approximately 40 PGT featured artists and up to 60 open division artists.
Number of pieces: 1
Painting time: 2 hours

Juror(s): Ken Cadwallader, OPAM, AIS
Artwork specifications:
Canvas/paper will be stamped at check-in.
Pieces on paper should be matted. Pieces on board or canvas do not need to be framed.
Maximum size: 24" on longest side.
All painting media are welcome.
Paintings must begin on a blank white or toned background.
Artwork must be signed.
Work must be created solely by the artist and done completely from life.
Work must remain on display until the conclusion of the event.
Pick up: unsold works must picked up on-site, immediately following the event. Abandoned artwork will become property of Crooked Tree Arts Center.
Sale event: an awards presentation and quick sale will immediately follow. This event is free and open to the public. Artists will use their own easels for the outdoor display and sale.
Sales:
Artists set the prices. Crooked Tree Arts Center will retain a 40% commission. The minimum retail price is $200.
CTAC staff will process sales; checks will be mailed to artists on or before September 30, 2022.
Prices are non-negotiable.
Selling artwork outside of the Paint Grand Traverse event is discouraged and contrary to the spirit of the event.
Award and Prize Values: $500 Best of Show; $400 Best of Open Division; $400 Best of Featured Division; additional awards TBA.
---