Event Details

Price

$20 (free for CTAC Artist Guild Members)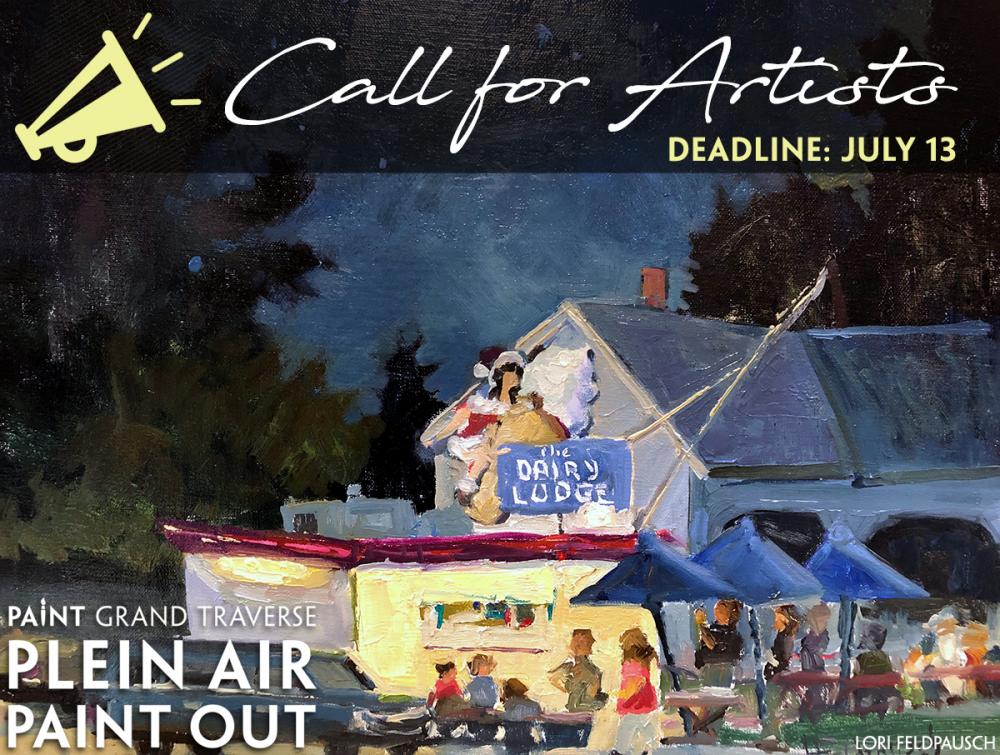 Application deadline: Monday, July 13
The ​Crooked Tree Arts Center in Traverse City, Michigan, seeks artists for Paint Grand Traverse 2020: Virtually Beautiful. In light of the COVID-19 pandemic and responsible public health measures, we've re-imagined Paint Grand Traverse as a hybrid in-person and virtual event. We are excited to connect plein air painters, art lovers, and collectors this August! 
The Grand Traverse region is located in northwest lower Michigan and is known the world over for its gorgeous scenery, hundreds of miles of Lake Michigan coast, and historic small towns and villages. The largest of these, Traverse City, is nestled on the southern shore of West Grand Traverse Bay, and is home to Crooked Tree Arts Center - Traverse City.
Paint Grand Traverse is presented by Crooked Tree Arts Center. Founded in 1971, CTAC is a community-based arts center serving Northern Michigan from campuses in Traverse City and Petoskey, Michigan. We offer events and classes in visual arts, dance, music, culinary arts, and more. To learn more about Crooked Tree Arts Center, visit us online at www.crookedtree.org.
This new PGT event will include artists who were selected for or scored highly on their application to the original PGT, and artists selected through this new, open call.
Please note that due to the COVID-19 pandemic, host housing is not available this year.
Application Process
1) Pay the $20 application fee online or by calling (231) 941-9488. CTAC Artist Guild Members do not pay this fee and can skip this step.
​Eligibility:
This opportunity is open to all U.S. residents, 18 years and older.

Prizes and Awards:
Over $1,500 in cash and in-kind prizes, including a $500 cash prize for Best in Show.
 
Terms and Conditions:
The call is open to all U.S. residents, 18 years and older.
All painting media are eligible.
Submissions must be original works of art created by the artist submitting the work.
Artists may submit 3-5 plein air images.
The Crooked Tree Arts Center galleries are sales galleries and works created during the festival must be for sale. Price is set by the artist. The Crooked Tree Arts Center will retain a 40% commission on all sales.
A non-refundable fee of $20.00 per artist is required for entry (CTAC Artist Guild Members are exempt).
Accepted artists must submit a signed letter of agreement by Friday, July 17 2020 in order to participate.
Notification will be delivered via email by Wednesday, July 15 2020.
During the Event
Artists will paint on site en plein air on August 8-9, 2020 in downtown Traverse City (August 8) and Old Mission Peninsula (August 9).
Artists will be required to take digital images of their finished work and of themselves painting on location and upload them to the PGT online gallery.
The minimum retail price is $250. Pieces should be framed or matted, ready to hang.
Artists shall be paid a commission of 60% of the retail sales price. Crooked Tree Arts Center will retain 40%. Artists will set the price of their work. 
Artists must submit at least two completed pieces for jurying and online sales. 
If you are selected, a Letter of Agreement will be sent with further details. 
 
Event Schedule in Brief
August 8-9: Artists painting on site en plein air in downtown Traverse City and Old Mission Peninsula
August 10-16: Online exhibition and sales
August 17 - September 12: In-person exhibition and sales in the Carnegie Gallery at Crooked Tree Arts Center - Traverse City