We've reserved up to 10 spots in the Paint Grand Traverse masters competition for CTAC member artists residing in Michigan. If selected, you will paint and compete with artists from across the country, and be eligible for cash awards. The application juror is Steve Stannard (see below for his bio). The deadline to apply is Wednesday, February 21, 2018.
Eligibility Requirements
There is no application fee, but you must be a current CTAC member. If you're not sure if your membership is current, call 231-347-4337. To become a member, call or join online. Individual memberships are $50.00.
Must be 18 years or older.
Must be a full- or part-time Michigan resident.
Materials Required to Apply
3-5 digital images that are representative of your plein air work. There is no file size limit, and high-resolution images are strongly preferred.
A summary of your plein air experience.
Terms and Conditions
Selected artists must attend and participate in all Paint Grand Traverse activities, August 12-18. These will be detailed in a letter of agreement that will be sent with your acceptance, but in summary include:
Sunday, August 12: artist orientation in the evening.
Monday, August 13: painting in select locations throughout Leelanau County.
Tuesday, August 14: painting on Old Mission Peninsula during the day; opening celebration in the evening with "small wonders" awards and sale.
Wednesday: August 15: painting in Leelanau County; followed by a Quick Draw competition and sale in the late afternoon/early evening.
Thursday, August 16: painting in the location of your choice during the day, followed by a sunset paint out in the evening.
Friday, August 17: painting in downtown Traverse City.
Saturday, August 18: artwork (3-5 pieces) due to CTAC by 1:00pm; awards gala and sale in the evening.
Housing is not guaranteed. A limited number of host homes are available, and priority will be given to artists coming from out of state. Artists are encouraged to apply only if they live in the Grand Traverse area, or are able to make their own lodging arrangements.
How to Apply
1. Prepare your images: images MUST be uploaded with the following filename format: LASTNAME_FIRSTNAME_image1.jpg; LASTNAME_FIRSTNAME_image2.jpg; etc. Improperly named images will not be reviewed.
2. Fill out this short information form, which includes a field for a summary of your plein air experience: Paint Grand Traverse application form.
3. Follow the directions at the bottom of the form to upload your images to our SmugMug site.
Application Juror: Steve Stannard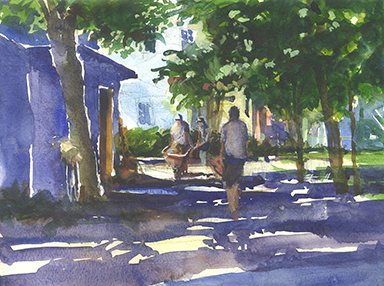 Steven James Stannard has earned a remarkable reputation as artist, illustrator, and Landscape Architect. As illustrator, his images have been published across the country. As artist, his paintings appear in dozens of private collections, while his landscape and planning designs are found throughout Maryland, Washington D.C., and Virginia.
Raised in in Detroit, Michigan, Steve began his career nearly thirty years ago. He earned both a B.S. in Geography, and Bachelor of Landscape Architecture from Michigan State, and an M.s.L.A. from Morgan State. From there, he pursued a successful career as Landscape Architect and urban designer in the Baltimore-Washington region. Somewhere along the way, Steve realized the value of the illustrations he was producing in conjunction with his projects, and in 2001 opened his studio- The Salient Group- to design and produce architectural illustrations and fine art. Today, he maintains an open studio on beautiful Grand Traverse Bay in Traverse City, Michigan.
Steve's fine art follows a pattern complementary to his design and illustration work. He paints what he loves- the built environment. Fascinated by what people have contributed to the landscape, he works in oil and watercolor to produce images that evoke familiar emotions- those of home, of work, of family. Steve often works from life, and typically paints just where he is at the time. "I never leave the sketchbook behind. Subjects come along often in the most normal of places. Painting the moment allows me to explore the lives of others as they go on about their day, doing what people do- building things."
Steven's images are widely collected, and he is represented by galleries in Delaware, Michigan, Maryland, Virginia, and Washington D.C. He is a former board member of the prestigious American Society of Architectural Illustrators (ASAI), where his art toured the country with their annual exhibit. Steve has also served six years as an executive officer in Maryland for the American Society of Landscape Architects (ASLA), is a member of the Mid-Atlantic Plein Air Painters Association (MAPAPA), and can be seen regularly in organized painting competitions. Steve has been guest instructor at the University of Maryland College Park and at the Institute for Classical Architecture (ICA & CA) in NYC. He frequently gives demos and workshops across the country.